Frisco Fields Development
Frisco officials got a first look at plans for the city's biggest pending development, the more than 2,500-acre Fields development on the Dallas North Tollway.
The sprawling property formerly known as Headquarters Ranch was sold last year to a partnership of commercial developers.
After months of planning, the developers went to show Frisco city council and zoning commission conceptual plans for the project, which is expected to cost as much as $12.7 billion.
The property stretches from Preston Road across the tollway and all the way north to U.S. Highway 380.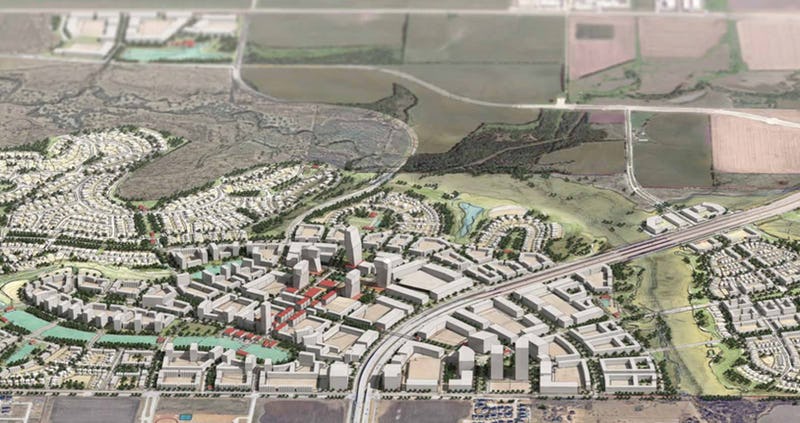 The massive development will have more than 10,000 homes and up to 18 million square feet of commercial space.
A 480-acre section of the project has already been sold for the PGA of America for their new headquarters, two golf courses and an Omni resort hotel.
Frisco mayor Jeff Cheney sounded upbeat about what he's seen of the developers' plans.
"There is still a great deal of work to be done, which will include hearing public comments, but at this point in the process, we're very excited and equally encouraged about the Fields team's willingness to work with us to achieve the appropriate mix of uses and product types while being flexible, yet dedicated to delivering creative designs that maintain the quality Frisco is used to," Cheney said in an email. "The collective, overall vision takes advantage of the topography, open space and magnificent views to leverage the asset of the PGA of America.
The developers named the huge mixed-use project after the land's previous owners. The Fields family began buying up the land in Collin County north of the sleepy farm town of Frisco in the 1950s and 1960s. For decades the land was used as a cattle ranch, but now it's the largest undeveloped section of Frisco, one of the country's fastest-growing communities.
Last week the developers previewed the work for Frisco government leaders.Preliminary plans for the Fields development show three new residential communities that would be built on the east and west sides of the property on Legacy Drive and Preston Road. At the heart of the development along the tollway, the developers plan to build a large commercial district. Another commercial complex would be built on U.S. 380.
Karahan said that the developers are working with Frisco's planning department staff and hope to make a formal zoning request later this summer. Site work could start on some of the Fields property as early as next year. The project is being planned for everything from large estate homes near the golf courses to urban-style apartments in the city center.
Development plans for the Fields development show several greenbelts and multiple small lakes on the property. The entire project is connected with walking trails. The PGA of America golf courses on the northwest corner of the land will have water and mostly open areas.